Linda M. Hasselstrom's

Windbreak House Writing Retreats

--- books, writing retreats, more ---
Welcome to Windbreak House.
Celebrating 23 Years of Writing Retreats! (founded 1996)
In the center of the nation, deep in the grasslands of western South Dakota, essayist and poet Linda M. Hasselstrom grew up as an only child on a family cattle ranch homesteaded by a Swedish cobbler in 1899.

Today she invites you to benefit from a writing retreat on that same ranch. Come to the house where she discovered the Great Plains outside her windows, where she began to write the poetry and non-fiction books that have established her as one of the strongest voices on behalf of the prairie.

Linda holds a BA in English and Journalism, an MA in American Literature, and has been a teacher of writing for more than 45 years. She has hosted writing retreats at her ranch since 1996.

Not a writer but a reader? Enjoy Linda's vivid descriptions of her life and work on the ranch, as a writer, and as an advocate for the preservation of the prairies and the people and wildlife who inhabit them.

++--++--++--++

Meet Linda on Youtube

For a brief introduction to Linda, her ranching life, her books, and the writing retreats, watch this Two-Minute Summary on Youtube. You've read her words-- now hear her voice and see her ranch and writing retreat.
The News from Windbreak House -- December 2019
---

We apologize for all the broken links in the website-- they came about after our website host changed their platform.
We are working on a new, updated website where everything works. The new website will have more and better features, including a storefront page. Stay tuned.
Upcoming Events
I have no public appearances scheduled for the near future, but you can learn about my work through this website and you can read my posts on Facebook and my blog, where I write about western life and writing.
For more information about my past and future events, see the Where in the World is Linda M. Hasselstrom? page on this website.
My Newest Books
I had 2 books published in late 2017.
Gathering from the Grassland: A Plains Journal

My first book, Windbreak: A Woman Rancher on the Northern Plains, written in journal form, covered a year on my family's ranch, telling the stories of the land, the livestock and wildlife, and the people.

My newest book, also in journal form, revisits that same landscape thirty years later. I spent a year observing the changing of the seasons and the daily life of my feathered and furred neighbors. At the same time I studied the personal journals of my parents and other relatives, trying to understand their lives from an older-- and wiser-- perspective; hoping that making sense of the past will allow me to see my way into the future.

Click here to read the "All About the Book" webpage for Gathering from the Grassland.

Gathering from the Grassland: A Plains Journal --- High Plains Press, 2017
(320 pages; size 6 x 9)
$19.95 -- paperback
$29.95 -- hardcover

You may purchase a signed copy from me for the cover price plus $4 shipping

Linda M. Hasselstrom
PO Box 169
Hermosa, South Dakota 57744



++--++--++--++
Dakota: Bones, Grass, Sky --- Collected and New Poems

The original edition of Dakota Bones: The Collected Poems of Linda Hasselstrom was published by Spoon River Poetry Press in 1993. This new and expanded edition contains all of the original poems plus 50 new poems-- an accumulation of poems from many years. In 2011 I published 50 new poems in Dirt Songs: A Plains Duet with Twyla M. Hansen, now Nebraska's Poet Laureate. Some of these poems predate those; some were published in periodicals but have not previously appeared in book form.

Click here to read the "All About the Book" webpage for Dakota: Bones, Grass, Sky.

Dakota: Bones, Grass, Sky – Collected and New Poems --- Spoon River Poetry Press, 2017
(240 pages; size 5.5 x 8.5)
$14.95 -- paperback

You may purchase a signed copy from me for $14.95 plus $4 shipping

Linda M. Hasselstrom
PO Box 169
Hermosa, South Dakota 57744


back to top

++--++--++--++
Now, What About Your Writing?
Windbreak House Writing Retreats and Online Writing Conversations by eMail.

If you would like to spend some time writing at Windbreak House see the Writing Retreats Page for the list of available retreat dates in 2018 and all the details you need to know about applying for a writing retreat (working with me) or a solitary retreat (recharge your creativity and enjoy uninterrupted writing time).

If you can't take a retreat holiday because your time or your budget is tight, we can still have some productive writing fun together online. See the Online Writing Help Page for complete details on how to sign up for a Writing Conversation by eMail.

++--++--++--++

Stories About Writing Retreats

Susan wrote a blog about her January, 2016 writing retreat-- you'll get a few writing tips while you enjoy reading about her experience.
www.writingwyoming.com/2016/02/lessons-from-writing-retreat

And I have a blog series about writing retreats.
Six Steps to a Successful Retreat at Windbreak House
Create Your Own Writing Retreat at Home

"Windbreak House Writing Retreats 20th Anniversary" series -- posted in December 2016 and January 2017
2016 was the 20th year I conducted writing retreats at my ranch home. Read this ongoing series of blogs for stories, photos, and many quotes by writers taken from the Retreat House journals. I have written 8 chapters and expect to write a few more later this year.
Part 1 -- Beginnings
Part 2 -- Evolution
Part 3 -- Guidelines
Part 4 -- The People
Part 5 -- The Writing

++--++--++--++
New Blog Posts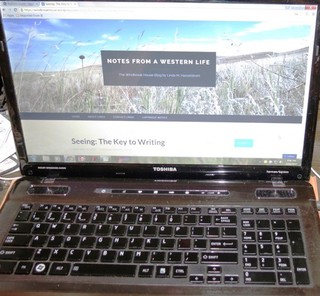 Notes from a Western Life -- The Windbreak House Blog

My WordPress blog allows me to include multiple photos, link with social media across the web, and offer you a free subscription that sends a dandy version of the blog directly to your email inbox, photos and all. To subscribe click on the link here to go to the blog, then look for the subscription box in the right-hand column near the top of the blog.
In 2019 I decided to write more regularly, resolving to post something once a week. My blogs are about my western life as a writer, a teacher of writing, and an observer of life. Many blogs include writing tips and suggestions; ocassionally I will remark on a book that has caught my attention.
Here is a sample of recent blog titles.
Build a Book with Journal Entries (March 4)
Neighborliness (February 25)
Book Remarks: How to Cuss in Western (February 18)
Flying into Oblivion: How to Keep Your Writing Spirits Up (February 12)
To read and subscribe to the blog, go to
Notes from a Western Life -- The Windbreak House Blog
Because it is time-consuming to update two blogs, I have phased out the blog on this website to concentrate on my WordPress site. However, many older blogs are still available on the Blog Page of this website which you will find by clicking here.

++--++--++--++

back to top
Interview on KEVN TV

In March, 2017, I was interviewed by Taylar Perez of Rapid City's KEVN Black Hills Fox TV station. Taylar came to Windbreak House, filmed my responses to her thoughtful questions, and captured shots of the Writing Retreat house, the books I spoke about, and early spring at the ranch. Then she zoomed back to Rapid City, filmed another interview elsewhere, edited the stories in the afternoon, and presented them that evening while she also anchored the news. Wow!

You can watch my interview and read the transcript here at KEVN Black Hills Fox.

++--++--++--++

YouTube Videos

In honor of National Poetry Month, and specifically National Cowboy Poetry Week (April 16-22, 2017), I recorded some stories and readings as a tribute to Badger Clark, South Dakota's first Poet Laureate.

I was inspired by a number of writers and poets during my childhood-- notably Mari Sandoz and Badger Clark-- who each wrote about the west that I recognized from my life on the ranch.

Video posted 2017 --- See my tribute to Badger Clark, his cabin in nearby Custer State Park, and his humorous Last Verse of poetry here on Youtube.

See also my video about Badger Clark's poem "The Legend of Boastful Bill" here on Youtube (published 2016).

++--++--++--++

back to top